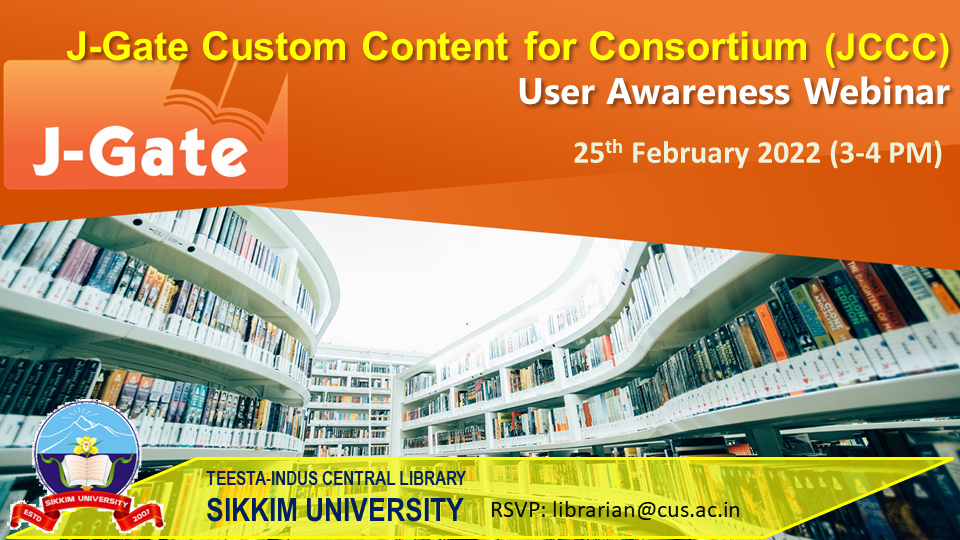 Central Library is organizing a User Awareness Webinar on J-Gate.
J-Gate Custom Content for Consortium (JCCC) is a virtual library of journal literature created as a customized e-journals access gateway and database solution. It acts as one-point access to 58,817 journals indexing and subscribed currently under e-ShodhSindu as well as university libraries designated as Inter Library Loan (ILL) Centers besides index to open access journals. It covers all Subjects areas. Do Join this Webinar to Learn
               Ø How to Access J-Gate
               Ø  Content Coverage
               Ø  Searching J-Gate
               Ø  Downloading Articles from J-Gate
               Ø  Inter-Library Loan of Articles through J-Gate
    This database is helpful in searching literature in all subjects for review and downloading full-text articles as well. Users can also request articles online from other libraries if it is not available through the database.
The meeting will be held online on 25th February 2022 (3-4 PM) through Microsoft Meet.
To attend please register online  at : 
Online Registration Form: Click Here
For further information, please feel free to contact us